Testimonials
Here at PaverCrafters Inc, we have been providing our clients throughout greater Tampa, St Petersburg, Clearwater, Belleair, and Dunedin, FL, with premium paver design and installation services for many great and successful years. We specialize in the custom installation of pavers and retaining walls for both residential and commercial projects. It is always our goal to leave our clients 100% satisfied with the quality of our work and the professionalism of our highly trained team members!

View our Google Review here »


Richard Maltinos
2 months ago

Culby Properties has been using PaverCrafters since 2019 and have been extremely happy with all the work they have performed for us. They have installed many driveways and Courtyards for us.
All we do is call Mark Sojka tell him an address and what we need and can be confident that all will go as we discussed.
Using pavers has allowed us to match the colors of our buildings and has cost us less than using concrete.


Jamie Shonk
2 months ago

We absolutely love our new driveway and are so happy with the entire process. Skip was an absolute pleasure to work with and so helpful during the process. Thank you!!!!


Frank B
4 years ago

We chose Paver Crafters because they claim to be the best at what they do, have great reviews on Angie's List, and we were impressed with our first impression during the estimate process. Mark is a master at his skill and helped us design our patio and also choose stone size and color at the shop. John and his install crew were amazing and they worked hard days to complete the project even with a few changes we made along the way. We are very pleased with the outcome.



Denise Chase
3 years ago

We couldn't be happier with the work led by Mark and the team @ Paver Crafters to renovate our backyard. From the initial design to last minute touch up details, their level of professionalism, craftsmanship and genuine passion and dedication to the work was first rate. We'd highly recommend the company and will certainly turn to them again for any relevant project needs. Thank you, Paver Crafters!


Neal Blackburn
5 years ago

Paver Crafters just finished laying about 1300 sq ft of clay brick pavers at our home. The job took two full days with a crew of 4-5 people. We couldn't have had a better experience with Mark and his crew. Thanks!


Mel Panozzo James
3 years ago

I'll tell you these guys really work hard. They know their business. Twice now I have hired them because they did a great job the first time. And this time they did not disappoint. Mark calls me or emails within minutes. No company does that, you always have to wait days, not him minutes he is replying. And all his employees get 5 stars too.


I used PaverCrafters to install a new pool deck at my residents in St Petersburg, FL. The PaverCrafters team far exceeded my expectations from the beginning to the end of the project.

Not only were they the most competitive on pricing, but also their work was completed professionally and on time. I would highly recommend them for any paver project without hesitation.

Sincerely,
Don
Vice President
aBETTER MEDIA GROUP, INC.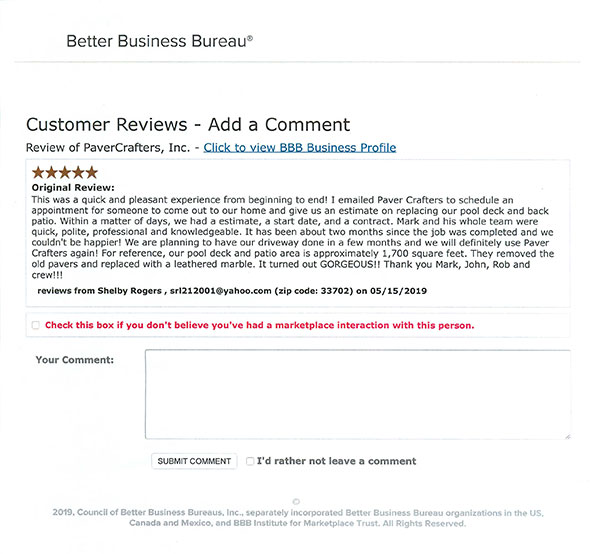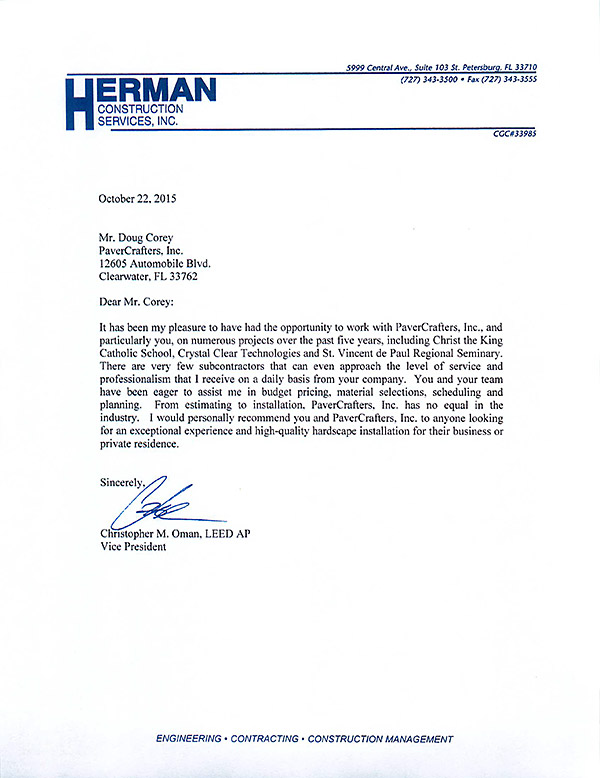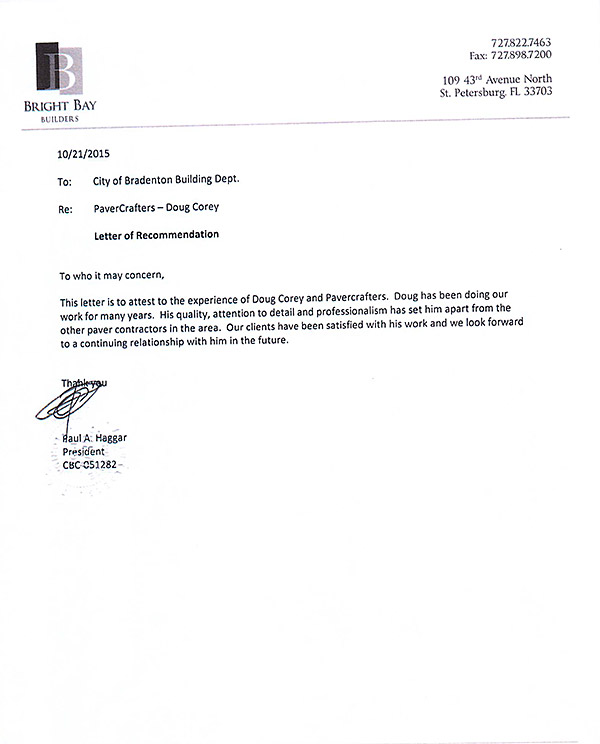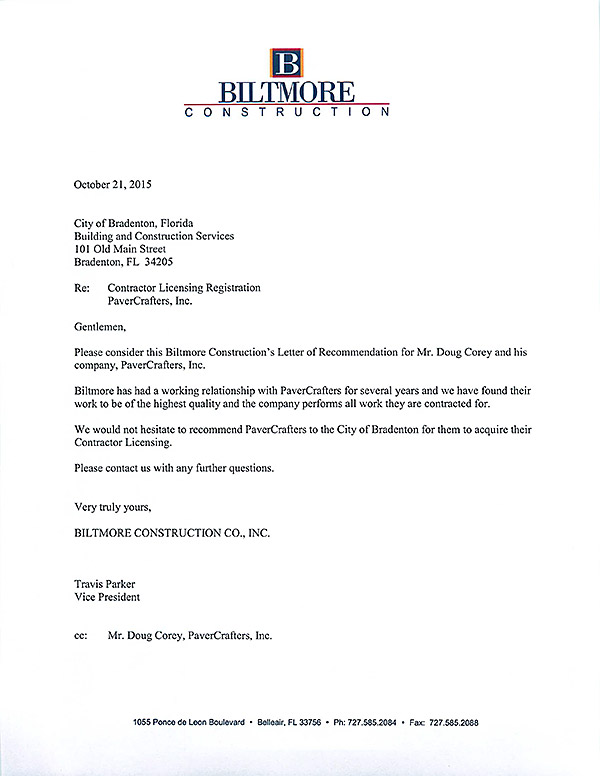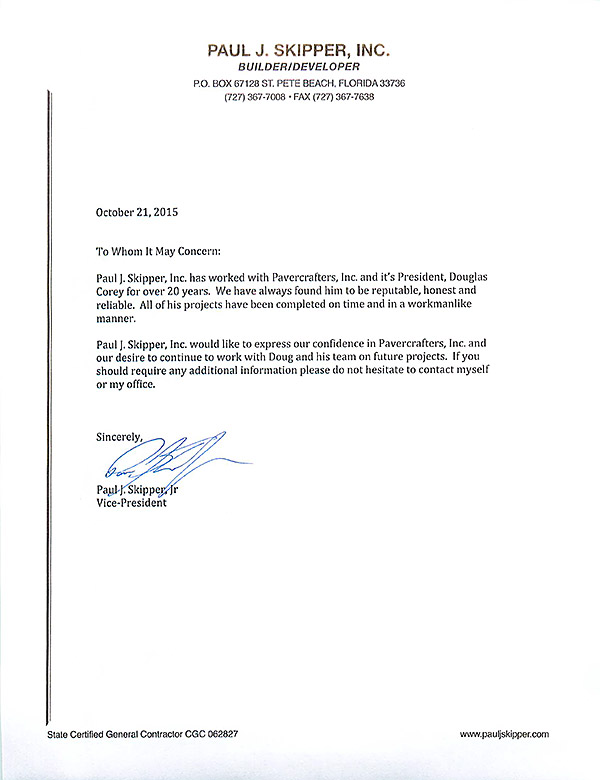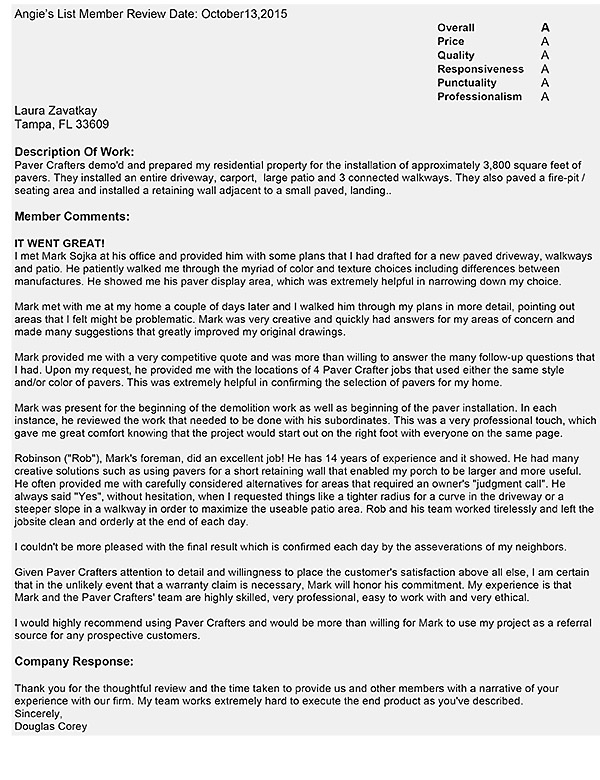 Date: October 21, 2014 at 10:38:32 PM EDT
From: Judy Shank
Subject: Re: PaverCrafters, Inc.

I absolutely love the pavers and the sealant makes the colors really pop. I love it so much I can't stop looking at it. It has transformed our porches. Please thank your staff for a beautiful job!

Alexander & Shank Team
Linda Alexander & Judy Shank